SS Braided PTFE Teflon Hose assemblies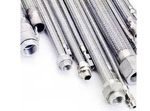 Stainless steel braided PTFE hose is constructed of virgin material with a series 300 stainless steel wire braid reinforcement jacket. The fluoropolymer core is inert and offers long flexural life, low permeability, non-flammability, and the lowest coefficient of friction of any solid material. The stainless steel braid permits higher pressure uses, reduces the possibility of kinking, and generally protects the core. Optional silicone jacketing offers protection from high temperatures during handling and keeps the outer surface clean and smooth.
True I.D. PTFE Smooth Core offers maximum flow; Convoluted Core offers excellent flow with enhanced flex.ibility.

Stock sizes for True I.D. Smooth Core: 1/4 in. through 1-1/2 in.; Convoluted Core: 1/2 in. through 4 in.

General temperature range: -65°F (-53.9°C) to 450°F (232.2°C).

Imparts no taste or odor to critical streams.

Easily cleaned or sterilized by autoclave, steam, or detergent.

Optional silicone jacketing makes stainless steel reinforced hose easier to handle by offering heat protection

Silicone jacketing also provides a smooth outer surface to eliminate particle entrapment for sanitary conditions

Full line of crimp fittings offered.

Custom lengths, sizes, other overbraiding materials, special cleaning, and/or packaging is available.

Custom crimped-on or flare-through assemblies offered.
| | | | | | | |
| --- | --- | --- | --- | --- | --- | --- |
| Inside Diameter | Outside Diameter(in.) | Max. Working Pressure | Min. Burst Pressure(PSI) | Min. Bend Radius(in.) | Vacuum Hg@70°F | Weight lb./ft. |
| 1/8″ | .240 | 3,000 | 15,000 | 1.5 | 29.9 | .05 |
| ¼" | .380 | 3,000 | 13,500 | 2.5 | 29.9 | .08 |
| 3/8″ | .520 | 2,500 | 10,000 | 3.5 | 29.9 | .12 |
| ½" | .660 | 2,000 | 8,500 | 4.0 | 29.9 | .15 |
| ¾" | .880 | 1,200 | 4,800 | 7.5 | 29.9 | .22 |
| 1' | 1.160 | 800 | 3,200 | 12.0 | 20.0 | .31 |
SS Braided Teflon Hose assemblies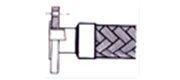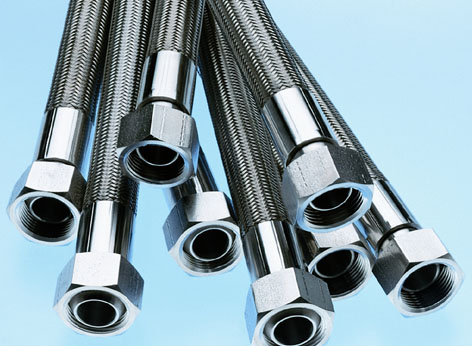 Female Swivel Nut assembly
Swivel or Fixed Flange Hose assembly
PTFE Flexible Hoses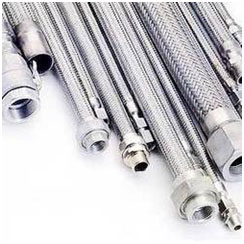 Metallic hoses
Braided flexible hose