Quick couplings are devices which permit easy, immediate connections and separation of fluid and pneumatic lines. When installed in a system quick couplings saves time by eliminating the necessity to close valves, bleed the system, recharge with fluid and purge entrapped air whenever an accessory is being replaced.
Material of Contractions:  1) Carbon Steel 2) Stainless Steel 3) Brass. 
Selection of QRC – Functions or Need, Pressure Requirement, Type of coupling, Pipe and Thread size, Flow Characteristics Material, Seal, End Connections 
Types Of Coupling – Three general types of quick couplings commonly recognized are: 1. One way check valve coupling 2. Two way check valve coupling 3. Straight through coupling 4. Tube Coupling.
One way check valve coupling
These are used originally for connecting portable air tools and equipments to compressed air lines. However, now they are used on many other applications. These couplings are usually built to withstand operating pressure upto 300 PSI.
When Disconnected
The socket valve provides an instant seal, automatically shutting off fluid flow to prevent leakage.
When Connected
The plug and socket engage securely, fully opening valve automatically to assure maximum fluid flow.
Where non compressible fluids such as water, oil and grease are being used, this pressure may sometimes be exceeded safely. The coupler body should be installed on the upstream (Supply) end of the line to shut off the fluid supply, when coupling is disconnected. The Adaptor has no valving and upon disconnection, exhaust, upon downstream media.
Size – ¼" to 3"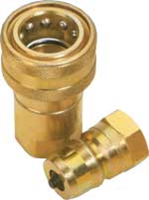 Two way check valve coupling
These are designed for connecting hydraulic lines. They are also extensively used where a variety of other fluids are involved. They are made to withstand pressure from 800 to 10000 PSI depending upon size and material. They contain valves in both the coupler and adaptor to prevent loss of fluid when the parts are disconnected.
Size – ¼" to 2"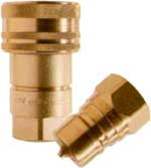 Straight through coupling
These are designed without valves to provide the least resistance to fluid flow. Therefore, they require manual check valves in both lines if fluid loss is to be prevented when the couplings are disconnected. Straight thru couplings provide for fast simple connection to any type of system.
Coupler bodies of this design are manufactured in brass, steel, stainless steel. The wide range of sizes from 1/8″ to 3″ allows the employment in fields ranging from instrumentation to steel mills.
Size – ¼" to 3"
To connect pressure or vacuum lines to plain tubes & pipes. The coupling is simply pushed over the end of the tube & pressed firmly to the stop position. This provides an effective leak-proof sealing. The tube can be disconnected merely by pressing down the lever & pulling off the coupling. No welding, threading or flaring of tubes.
Size – ¼" to 1 1/4" (4mm to 32mm)